Pork and vegetable mix is  a good way to eat a high protein diet while keeping your micronutrients from all the different vegetables in check. Chose the pork that has only stake and where possible keep it organic.
This recipe is health yet quick and simple .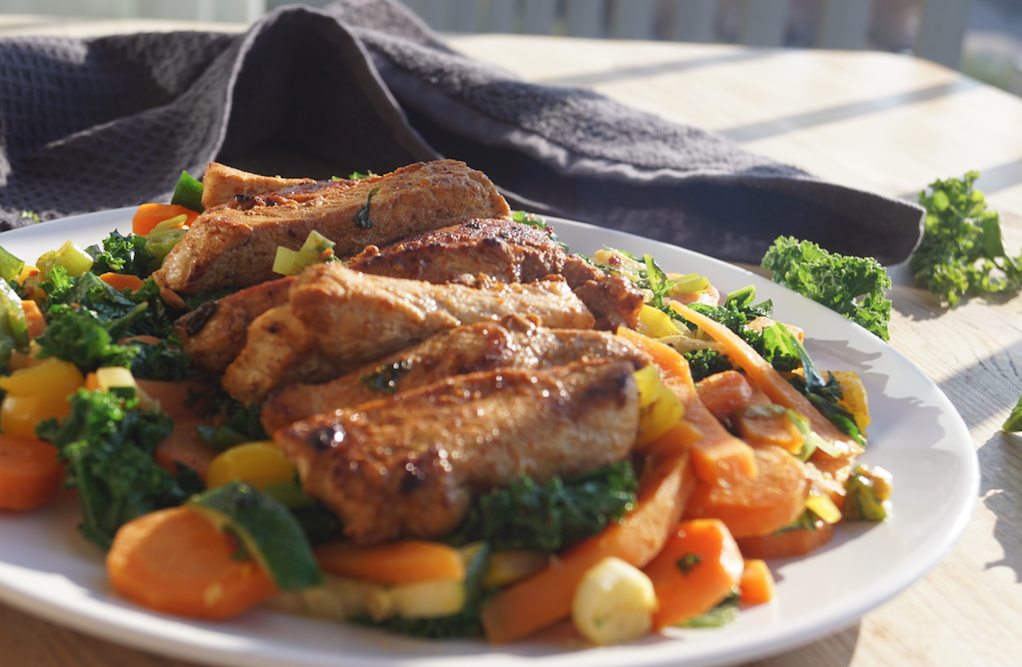 Ingredients 
Pork tenderloin

cut  in strips

Kale

washed and chopped

Spring onions

washed and chopped

Carrots

sliced in small pieces

Squash

sliced in small pieces

Sweet potatoes

chopped in stips.

Garlic

1 clove crushed

Yellow pepper 
Avocado oil

 

Olive oil
White pepper
Chili powder
Rice wine Vinegar
Solanum indicum  powder
Salt.
Method
Step 1  
Cut pork in strips, wash it and marinade it with rice wine vinegar, white pepper, red chili powder and salt. After 10 minutes fry with avocado oil it until golden make sure that the pork is heat to over 75 degrees.  Put a side on low heat.
Step 2  
Using avocado oil fry sweet potatoes and carrots for 3 minutes add garlic, squash spring onions and kale last. Add white pepper, red chili powder, and solanum indicum powder and salt stir 5 to make sure the spices are well mixed.
Step 3.
Sever as desired and add a little olive oil.  
Enjoy!